This article is about how a fully self evaporating portable air conditioner works to keep you cool in summer without frequently needing to empty the water tank.

If constantly emptying your AC unit's water-catcher tray is driving you nuts, you need a fully self evaporating portable air conditioner to keep you cool and comfortable during hot weather.
This page contains affiliate links, meaning we may receive a commission if you purchase an item that we have recommended
These coolers do away with the need for drain hoses or water catching trays... and that means no mess, no hassle!

That's because this ultra-cool type of AC unit efficiently re-evaporates all the moisture it condenses from the air. And expels it straight out of the vent hose to the outside.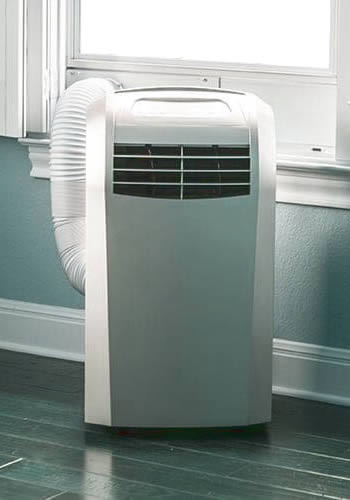 When you're considering replacing your old AC unit with a new one, this is a feature you will be greatly appreciative of after using it for even just a short time!

So let's look at what this type of cooler actually is and how it works.
Why Does Water Collect in Traditional Portable AC Units?
If you didn't already know, portable ACs remove warm, moisture-laden air from the space being cooled. As it cools the air, the excess moisture is removed from the air too.

With standard and older units, that excess moisture is condensed inside the unit and collected in an internal reservoir that needed to be periodically drained. That's to prevent it overflowing and making a mess, or causing the device to automatically shut off until it was emptied.
Not a Nice Chore
Emptying the water tray is not a very nice chore. It's a job that many users did not like doing, especially those living in humid areas.

That's where the high levels of moisture in the air would mean much more would condense and collect inside the unit, increasing the frequency of needing to drain the unit or empty the pan.

Not only that, but the whole unit needs to be lifted off the ground to allow the water to drain out. As they're quite heavy, that's an unwelcome job for anyone and a tough one for an older person.
How Does a Self Evaporating Portable Air Conditioner Work?
The good news is that some of the newer select brands are using updated technology to get around the problem. They remove this moisture automatically and expel it out through the vent hose.

So there's no need for manual draining or for those living in high humidity areas, installing a hose for continuous draining.

Instead of allowing the condensed moisture to collect in a pan or drain tube, the water is re-evaporated then expelled.

Some models use an internal misting system that sprays the excess moisture out through the hot-air exhaust hose to the outside of the building. Many models recycle the condensing moisture to assist with the cooling process and save energy before expelling it.

These units are known as fully self-evaporating portable air conditioners (also: fully self-evaporative portable ACs) and they do exactly what their name suggests.
The Benefits of Self-Evaporative AC Units (Pros)
Owners of fully self-evaporating units prefer them over than the traditional partially self-evaporating models. That's because they require less maintenance while offering cost-effective, efficient and powerful cooling ...and no more hassle with water leaks!

The major benefits are:
Hassle-free, worry-free cooling operation
No messy drain or water pan to empty. Ever
No lifting the unit to access a fiddly drain hose
No suffering an auto shut-off of the cooler because of a full drain
Peace of mind that excess moisture is all being vented to the outside
Just turn it on and enjoy the cool, comfortable atmosphere it creates
I believe these amazing coolers are certainly worth considering as replacements for older AC models, or if you've decided to buy a new portable AC as a first choice.
The Downsides of Self-Evaporative AC Units (Cons)
There are few disadvantages of self evaporating portable AC units when compared to regular portable units.

The main downside is the slightly higher purchase price, which reflects the inclusion of self-evaporative technology developed by the manufacturer.

Aside from the cost, all other aspects are equal or better than regular free standing AC units of similar power output and feature-set.
My Self Evaporating Portable AC Top Picks
I can recommend the follwowing that I consider to be among the best portable AC brands with self-evaporating technology.

At the time of publication, the following affordable and recommended models are currently available to buy online from Amazon. See below:

Note: As an Amazon affiliate I earn from qualifying purchases.

Whynter ARC-14S 14,000 BTU Dual Hose Portable Air Conditioner
This powerful dual-hose equipped portable AC is very popular thanks to its robust build quality and reliability in this power range.

The self-evaporating technology used in Whynter AC units is one of the best around, capable of cooling a room of up to 500 sq ft using CFC-free GREEN R32 refrigerant.

It not only removes condensate from inside the unit and exhausts it to the outside air, it also uses that moisture to aid the cooling process, making the unit more efficient and economical.

In everyday terms, that means it's cheaper to run than comparable non-evaporating AC units.

So what else is cool about this model?

It has three operating modes:
Cooling (air conditioning with 3 fan speeds and full thermostat control)
Fan only (for those times when it's not so hot and you just want some nice air circulation)
Dehumidification (for humid areas this model can extract up to 101 pints of moisture per day
Dual Hose Operation
Using two hoses instead of one, the extra efficiency obtained means faster cooling and it also adds to the cost savings. Here's why:

Single-hose AC units suck air into the unit from the room, cools it and sends it back into the room as cold air. The problem comes because it also needs to exhaust the hot air that is created out through the single vent.

This creates negative pressure in the room. When the inside pressure is lower than it is outside, nature does its best to rebalance things by cauing hot air from outside to be sucked into the room through any cracks or crevices to bring the pressure level.

This means the AC unit has to work harder to cool the air because hot air keeps getting in!

Dual hose models eliminate this problem by taking air in from outside to cool. This creates a regular flow of fresh air and doesn't create a pressure difference, so no hot air from outside can leak into the room.

That means the AC runs more efficiently which costs you less to run it overall!

What you get with the Whynter AC is a powerful cooling appliance that is also economical to run in comparison with similar models from other manufacturers.

You can grab this top spec air conditioner from Amazon today by clicking the image above right.
Honeywell MN1CFSWW8 Classic Portable Air Conditioner
Introducing this 11,000 BTU model from popular manufacturer Honeywell with auto-evaporation technology that means no more emptying the bucket!

(Note: in areas of high humidity it is still possible that some condensate will collect in the bucket)!

This appliance can cool rooms up to 500 sq ft and is easy to hook up its single hose to the provided window fixing kit.

It comes with a washable filter to trap dust and other airborne pollutants for fresher, cleaner air.

It features three operating modes:
Cooling
Fan only
Dehumidification (extracts up to 67 pints of moisture per day)
There is a remote control, a programmable timer and easy-to-use digital on-board controls for your convenience.

You can see this model and get further details at Amazon by clicking the image above right.

Black+Decker BPT08WTB Portable Air Conditioner
This bucket-less, self-evaporating portable air conditioner from the well-known brand Black & Decker is rated at 12,500 BTU and cools spaces up to 450 sq ft.

It's an ideal compact air conditioner for dormitories, apartments, living rooms, bedrooms, cabins, offices, or campers.

It features a sleep mode with quiet running at only 58 dB to allow you to enjoy peaceful sleep in comfort on those hot, steamy summer nights.

There is a 24 hour timer for full programmatic control, a remote for convenience and a washable filter to trap airborne pollutants such as dust, pet hairs, pollen etc.

With 3-in-1 functionality, this appliance cools, runs in fan-only-mode and dehumidifies (90 pints per day extraction).

A portable AC is so convenient and flexible, you can just roll it into the room where you need it, attach the hose and window adaptor to a close-by window, and in no time at all you are enjoying the cooling comfort you need on a hot summer day.

You can buy this model at Amazon by clicking the image above right to visit their page for full details.




Alternative Store (Sylvane): US Only
These are affordable and easily available to buy online (if you live in the United States) from the top air conditioning and purifying appliance store, Sylvane. See below:

NOTE: If you live outside the U.S. or would like to see alternative AC models on sale at from AMAZON: Click: Check out THIS PAGE

Note: As a Sylvane affiliate I earn from qualifying purchases.

Toyotomi 11,500 BTU Double Duct Self Evaporating Portable Air Conditioner
Here is a slightly smaller but full featured, fully self evaporating portable air conditioner from Toyotomi that is perfect for cooling areas up to 350 sq ft.

This is one of the best models for taking advantage of its ability to recycle and then remove all the water that collects inside, re-evaporating and sending it out through the exhaust vent (meaning you don't need to empty the water container under normal cooling circumstances).

If you haven't already heard of the Toyotomi brand of air conditioning equipment, you are sure to soon enough!

This manufacturer is producing some of the best, most reliable and efficient coolers in the marketplace today, often out-performing units from other well-known brands of similar power output.

This unit is powerful for its size, easily able to cool a room up to 350 sq ft efficiently and quietly (min 49 dB, max 54 dB).
Features
It features dual hose operation for better efficiency and economy than single hose models.

As well as regular cooling and multi-speed, fan-only modes, it features a dry mode (dehumidification) that extracts 3.76 pints of moisture per hour from the air (in this mode you will need to empty the water container regularly if the container gets full while dehumidifying the air.

Comes with remote control, self timer and automatic operation functions to make things as easy as they can be!

To see the full details, click on the image (above right) to visit the dedicated sales page at Sylvane, where you can check the surprisingly low price and free shipping details!

Note: This model is now back in stock!


Friedrich ZoneAire 11,000 BTU Dual Hose Self Evaporating Smart Portable Air Conditioner
If you love an appliance with tons of great features, the Friedrich ZoneAire fully self evaporating portable air conditioner has plenty to tempt you with.

To add to its already impressive ability to recycle and remove all condensate from inside itself and send it out through its exhaust vent (so you don't need to empty a water tray), this model comes with the ability to be controlled via your phone!

Yes, this amazing cooler has a "smart" Wi-Fi enabled feature that means you can download an app and control it from your phone or tablet wherever you may be. You can even use voice control with a Google Home or Alexa device.

You could be sitting on the other side of the room, out in your back yard or waiting for the train to come home from work. Doesn't matter, because you can set this AC to whatever you want from wherever you are!

It's pretty powerful too, being easily capable of cooling a room up to 400 sq ft and it does it quietly (at max 53 Db). With dual hose operation it is far more efficient and economical to run than a single hose model.

What other great features does this unit have?
Features
11,000 BTU air conditioner cools up to 400 sq ft
Smart capability to be controlled from a phone app or via WiFi
Dehumidification mode extracts 3.5 pints per hour
Quiet operation (53 dbA)
Digital LED display, remote control
3 speed fan. Auto on/off 24 hour timer
Dual Hose efficient operation
Click on the image (above right) to see more of this cooler at Sylvane - you get free shipping to mainland USA addresses!

Whynter ARC-14S Eco-Friendly 14,000 BTU Dual Hose Self Evaporating Portable Air Conditioner
The powerful Whynter 14,000 BTU dual-hose, self evaporating portable air conditioner with it's two-filter design pre-filter and active carbon air filter is a great cooler for larger rooms from one of the best AC manufacturers around!

It's easily one of the best dual hose ACs for really fast, powerful cooling for spaces up to 500 sq ft when and where it is needed most!

This model features Whynter's patented advance auto-drain technology, making use of its self-evaporating process to remove excess condensate instead of it filling up a tank for you to empty!

The process actually recycles the moisture collected during cooling to aid the production of cool air, increasing efficiency and economy. In fact, this amazing cooler only uses 1.25 kW (1,250 watts) of electricity on full power, saving you money on electricity bills over larger AC units!

This popular model fron Whynter features a washable pre-filter plus an activated carbon air filter, designed to catch unwanted airborne particles for cleaner, fresher air.

The ARC-14S model is ideal for use in areas that require low atmospheric moisture levels. Places like computer data centers, server rooms, wiring closets etc as well as in homes, offices and work spaces.
Features
Easy-to-use digital on-bard controls plus remote
Programmable timer, sleep (quiet) mode
14,000 BTU cooling with CFC-free R-410A refrigerant
Auto-drain function fully exhausts condensate automatically (no more tank emptying!)
3 operational modes: AC, fan, dehumidifier
Dehumidifies extracting up to 4.2 pints of moisture from the air per hour
Quiet operation (max 56 dB)
Washable air filter
Note: All portable air conditioners including this one must be vented using the included hoses. The dual hose design allows the room to be cooled up to 40 percent faster and more efficiently than standard single hose models.

You can buy this AC at Sylvane right now by clicking the image/link above right to visit their website and get all the details, competitive price and free delivery details.

NOTE: If you are outside the U.S. or want to see alternative AC models on sale to a wider demographic: Open THIS PAGE


Summing Up
The models above were chosen for their outstanding performance, build quality, cooling output and affordable price.

There are other, more expensive models that can be found both online and in stores, but the final choice will be yours on whether you want to pay more but perhaps not get the extra money's worth in value terms.

Now that we've looked at some of the best self evaporating air conditioners in our opinion that are on sale today, let's get into the more in-depth side of this subject.

That's the part where I tell you some of the reasons why having a properly vented AC device in each room of your home or workplace is a very good idea.
Indoor Air Quality
While we're looking at these cooling devices, let's also take a look at their role in helping to improve the quality of the indoor air that we breathe through air purification and filtration.

Indoor Air Quality (IAQ) can be affected by a number of gases (these include carbon monoxide, radon, volatile organic compounds), airborne particulates, microbial contaminants (such as mold, mold spores and airborne bacteria), or any other mass or energy stressor that might cause or induce adverse health conditions.

In most households, we rely on source control, air filtration and ventilation (open windows or extractor fans) to dilute the many contaminants as the main methods for improving the air quality inside the home. It is possible to further improve indoor air quality in the home by routine cleaning of carpets and area rugs.

Air conditioners can also help to improve the air quality inside the home in two main ways:
By drying the air and thus reducing the potential for mold spores to proliferate
By aiding ventilation through the exhaust of warm, moist air out of the building through its vents
Molds and other allergens can build up inside a room for a variety of reasons. There are two common classes:
Moisture induced mold colony growth
Natural substances released into the air, including plant pollen and animal dander
Mold is generally associated with moisture. Its growth can be inhibited by maintaining humidity levels below 50%. The buildup of moisture inside buildings may arise from a number of sources, such as water penetration from poor weather protection, plumbing leaks, condensation (caused by improper ventilation), or ground moisture rising through walls.

Drying clothes indoors can increase indoor humidity and along with it the risk of exposure to molds such as "Aspergillus" which is a highly dangerous mould that can prove fatal for the elderly and asthma sufferers. In areas where wallpaper and wood in drywalls gets moist and fails to dry within around 48 hours, the propagation of mold mildew can occur, releasing allergenic spores into the air.

Anything that aids the ventilation process in a room, especially one that would otherwise be sealed during the hot months of summer to keep the heat out, is a good thing.

Air conditioners, whether fixed and ducted or portable and vented though a suitable wall or window vent will perform that task by circulating the air in the room and exhausting the unwanted heat and moisture to the outside.
Humidity Control
It seems that no matter what you do to try and control things that cause a rise in humidity indoors, there are factors that cannot be changed.

The main one is us human beings, ourselves. We perspire when we're hot and that perspiration evaporates into the air, effectively raising the humidity when ventilation is poor or not possible.

It's not a major problem when the number of occupants in a room is low. But things can get hotter and more humid when there are larger numbers of people occupying a room, for instance when gathered together to watch a big sporting match on the TV!

Air conditioning comes to the rescue on a number of levels in the above scenario. It cools the air that would naturally heat up with several hot bodies all together and likely in an excited state (it happens when watching a big game).

It also expels the excess humidity that also builds up in the air thanks to all those sports fans shouting and hollering at the TV!
Dehumidification and Cooling
A major function of refrigeration-based air conditioning equipment is its ability to reduce the absolute humidity of the air that has been processed by the system.

The relatively cold evaporator coil (its temperature being below the dewpoint) condenses water vapor out of the processed air, in a similar way in which an ice-cold drink will cause water to condense on the outside of a glass: first as a hazy film, then more pronounced as larger droplets form and slide down the glass.

Since water vapor is removed from the processed and cooled air, the relative humidity of the air in the room is lowered. The condensed water is generally sent to a drain or a catcher tray (in the case of portable units) or may simply be allowed to drip onto the ground outdoors (fixed systems).

The heat from the air is rejected by the condenser which in the case of portable air conditioner devices is inside the unit and uses the vent hose to exhaust this warm air from the room, or in the case of fixed systems, is located outside of room or building that is being cooled.

Many modern portable air-conditioning models have a dehumidification cycle built-in to them. This works when the fan is slowed as much as possible while the compressor is on.

This lowers the evaporator temperature and causes more water to condense than it would do with a high fan speed.
How Does a Portable Air Conditioner Evaporate Water?
Many modern portable air conditioners feature innovative self-evaporation technology. The water is automatically evaporated through the vent hose. This technology is not available in all portable ACs.

Even though your AC can automatically expel water, most ACs are only partially evaporative. They still have a water tray. The water tray serves the purpose of holding water so that it does not get ejected at the same rate it is being generated.

The majority of portable ACs on the market today are partly evaporative AC. These are equipped with self-evaporation technology to evaporate at least a percentage of the condensate.

They will still retain some humidity from the cooling process. They must be drained as needed depending on the humidity level.

The fully evaporative portable AC completely removes humidity independently from the air. This type of AC will take away all the hassle of emptying a condensate tank.
What is the Auto Evaporation Function on a Portable AC?
Auto evaporation is another way of saying self-evaporation when referring to an AC.

Portable air conditioners with the auto evaporation feature effectively recycle the residual moisture that is extracted from the air.

This eliminates the need to allow the condensed moisture to collect in a bucket or be manually drained though a drainage hose periodically. After recycling the condensate to assist the cooling process, any remaining condensate is re-evaporated and vented through the exhaust hose.
Portable Air Conditioner Without Water
I have been asked about a portable air conditioner without water, what this is exactly and whether it is a different type of AC device.

I believe the thinking behind the reference to not containing any water could be reasoned to being that because self evaporating AC units evaporate the condensate and blow it out of the exhaust hose vent, there is no water to collect in the unit's water container.

Another reference to this type of cooler could be a way of differentiating between a non-refrigerant cooling device such as a swamp cooler (evaporative cooler) that cools by evaporation of water that is held in a large container for the purpose and a true refrigerant-based air conditioner that does not require a vessel containing water to operate.
Portable Air Conditioners that Don't Need to be Drained
Certain AC brands make use of the latest self-evaporation technology to remove condensed moisture automatically from the internal coils by re-evaporating and expelling it out through the exhaust hose.

This means that self-evaporative AC units do not require draining under normal cooling conditions. Only when humidity levels are high would this type of cooler need to be drained as the amount of moisture condensed from the air could exceed the capacity of the AC to re-evaporate and expel it.
Regarding regular portable air conditioners that do not feature self-evaporating technology, if you don't drain them regularly or manually empty the water container periodically here is what can happen:
The water container inside the air conditioning unit will fill up to its maximum level
Once the container is full, the air conditioning unit can shut itself off and will not turn on again until the container has been emptied or drained
With older models without an auto-shut-off mechanism, the container can overflow, resulting in a puddle of water on the floor
Fortunately, when you choose to buy a modern, fully self-evaporating AC model, this problem is effectively eliminated under normal atmospheric conditions (normal to low humidity levels).

This is because the self-evaporating technology can deal with a certain amount of condensate forming on the cooling coils inside the unit. It does that by evaporating and exhausting the moisture out through the unit's vent hose to the outside.
Final Words
With the ability to lower the temperature in a room significantly while at the same time reducing the humidity level and not allowing condensed water to fill a receptacle below the unit, a portable air conditioner with self evaporating functionality is a very useful appliance to own during the heat of summer.

This type of device provides a cooler, comfortable and cleaner atmosphere to live in without any fuss or extra work involved other than turning it on and off and setting the thermostat to a comfortable temperature. If you were on the fence about buying one or more units for yourself and your family, perhaps this article has helped you come to a firm decision.





Customer Reviews
Below is a collection of customer reviews of ACs bought recently:
Before I bought this portable self evaporating AC, I carefully read through the reviews and watched a few videos. After it arrived, I went through the entire manual from beginning to end before installing. Let me address some of your complaints. This device must be turned off for at least 4 hours. This is what I believe is the most important thing people don't do correctly.

It was a bit difficult to get it in my window. The slats weren't aligned properly, but duct tape helped me fix that. This thing has been on 62 degrees since I got it. I haven't had to turn it off yet and the water bin has not been empty. I was worried about this because some people mentioned that they had to empty it every other day. After reading everyone's comments, I tried to empty the water, and was disappointed at the amount of water that came out. However, I didn't turn the thing on for more than 4 hours and it has not had any water condensation.

This is the main air conditioner for my condo. It cools several rooms, which total about 600 sq ft. My condo measures 1230 square feet. The entire house, with the exception of my bedroom, is 1230 square feet. It is comfortable and cool in the Southern heat. My condo is at 72 degrees, and the ac unit is set at 62 degrees. It was a constant 86 here before I bought the ac unit.

You can take any comments you want, but you'll be able to follow the instructions.
This air conditioner with self evaporating tech has been great. I have only used it once. This is the air conditioner I purchased instead. It was difficult to drain so I called Whynter and Jackie A., a very nice lady, helped me open the drain and allow it to drain. It didn't actually need to drain so the feature that states it doesn't have any humidity should be true. It could become a problem if the unit gets full. To drain it, you will need to lift it up.

Up-to-date
This unit is still my favorite. The draining problem has been solved. Instead of lifting the unit up and pouring the water into a large bowl (which is difficult), I place a thick towel behind it and drain the water on that. This is done every other night to make sure there is not too much water (1/2 cup). to drain. It made an annoying sound due to water buildup before I did it.
This portable A/C unit has been great. It cools the hottest area of my house. It was amazing to see the temperature drop to 61 degrees. This was the reason I decided to put it in my room. It would make it easier to regulate airflow throughout the day and at night. This A/C was way colder than I expected. This unit was 61 degrees! This unit is great! I don't think you can have too much when it comes to such things. Because my house is small, it only has a few rooms. I need to run fans to circulate air throughout the house. This unit gives me the power and cold water to cool the whole house. With the right conditions and a small A/C, my house can be kept about 15-20 degrees cooler than the outside temperature.

I find the dual hose to be far more efficient than the single hose. If you have the money, don't waste it on a single hose. When temperatures rise, you can tell the difference. The dual hose unit pumps out super cold air just like it's a stroll in the park.

The unit is in my bedroom, so it can get very cold very quickly. I need the remote to control it so that I don't have the to climb out of bed in the middle of the night and turn it off. The remote is my friend.

Although the installation was not difficult, I am very familiar with tools and have a lot of experience in installing and disassembling window-mounted units. Although experience, different sizes of window foam and shims will help, I am not certain if it is necessary as each window will present its own challenges. Extra foam was required to fill the gap between my windows when they were pushed tightly into the unit.

Last note: Make sure the window mount where the tubes attach to the unit from the back is in the correct orientation for the tubes to connect with. I had mine turned to the outside, and I couldn't figure it out when I was ready to go. This is an important point that the instructions don't cover.

Amazing unit! This unit is fantastic! I am very happy with it and would highly recommend it to anyone tired of dealing with window-mounted units. The A/C is very powerful, extremely cold, and easily portable. If you have extra cash, this is a no-brainer. It's also important to note that I don't use dehumidify and have not had to deal with water in a while.
Before I begin, I want to make it clear that I can't stand heat. When California was experiencing heat waves, I knew that I needed a portable AC with an auto-evaporation function. This unit was slightly less expensive than the other options, but it also had a dual-hose setup that I liked. I won't lie. I was hesitant about making this purchase because I worried that so many things could go wrong with this product. It arrived quickly and I have been enjoying it ever since.

Here are the details. The unit arrived and I was able to set it up without any problems. It took me around 30 minutes to complete the task. The window board was thin so I added foam to the corners of the board to block outside noises (kids playing in the backyard). To prevent hot air from entering the apartment, I added gorilla tape to the entire edge of the windowboard.

After it was set up, it was left to rest for 24 hours. This is a good practice with portable AC's. It was 95 degrees when I returned from work the next day. My apartment inside felt much hotter than a sauna/greenroom because it was baking in the heat and had the windows shut all day. Instantly, I turned the heat up to the maximum setting and set it at 61 degrees, which is the lowest. Within a matter of 10 minutes, my apartment's living room was back to normal. It was a peaceful oasis within an hour. I set up a fan box that blows from my living room to my bedroom. To my delight, it actually cools my room to a comfortable temperature.

It was my first 2 weeks with it that I became paranoid about the leakage. I would check the AC every 1-2 hours to make sure it wasn't leaking water onto my floor. The dripping sound that I hear from the unit was a part of my paranoia. Surprise, after only a month, there have been no leakages. At my current humidity level, the self-evaporating system appears to be working well so far. You can compare your environment to Culver City, California temperatures and humidity to see the type of AC I have been using. Today's temperature is 86°F with 53% humidity. I have my AC on for 6-10 hours per day. There are no leaks and there is no drain pipe, at least not yet.

One small problem I had was with the unit. This unit is not quiet. This unit is not quiet enough for a baby's bedroom. It is very loud. It sounds loud, but I can't tell you the decibel level. However, when it's next to me, it makes it sound like a small lawn mower is roaring beside it. It's not too loud to interfere with my Discord calls. Aside from the fact that it's a bit noisier and cooler than my home, I prefer it to be quieter and less hot.

Overall, it was a fantastic purchase and well worth every penny. Although each customer's experience is different, mine has been excellent despite the intense Cali heat. Anyone who feels like their soul has been melted by the heat would benefit from this product. I hope this helps!
Consumer Reports recommended this portable AC unit that auto-evaporates so I bought it. I was curious about the difficulty of installing this unit after reading reviews on Amazon. As a retired librarian aged 70+, I can follow directions and have done minor repairs and other projects before. When dealing with plastic parts, it is important to keep calm and not force the parts together. It took me around an hour to install the window fittings and attach the hoses. The sliding extension was also necessary, but it was too long so I used a hacksaw to cut it. Everything worked perfectly. The plastic parts were very sturdy and I had no problems using the screws. It didn't come with a hose to collect the water condensation. It takes a standard 5/8 inch. Garden hose with the connector end that attaches to a faucet handle. My house isn't air-conditioned in the Pacific Northwest. It used to be fine, but it's becoming more difficult. The unit cools easily a kitchen and family room. It makes about the same noise as a window air conditioner. It's a great product and I am glad that I bought it. The remote control was unnecessary. Once I have set the temperature I want, it is easy to just use one button to turn it off. It is a great investment for my purpose of cooling the house during summer
This unit was purchased until because of its efficiency. Similar units used 1,100 to 1,200 watts of electricity. This unit used 1,000.

The house was built in 1980. My bedroom measures 15x14 / approximately 210 Sq. Ft., standard 8' ceiling. A master bathroom attached measuring 12 x 5, or approximately 60 Sq. It didn't seem to be bothered by the high winds. It works well here. My living room measures 20x17 / approximately 340 sq. Ft. with vaulted ceilings and a staircase. There is also a kitchen off the living room. It was underpowered for a room this large. It was about 6 feet away from me and the power to cool it dropped off quickly.

This was set to 74 degrees F. It was able cool the bedroom to the same temperature as the rest of my house, which is in the 80's. Outside, it was in the high 90's. To cool the bedroom, I use a smaller fan to circulate the air. It feels great.

It is acceptable to tolerate the noise. It's not quiet. If you talk around it, it doesn't stop conversation. It reminds of an old bathroom exhaust that I had to get rid of, which produced 4 different sounds. It's easy to tune out when I watch movies. It makes a noticeable wind noise, even at low settings. There could be design improvements to lessen the wind noise. However, quiet was not my primary objective.

They seem too short. I can put the hoses into the window and push the unit body 1 - 3ft to the right or left of the window. A majority of people have a couch or another large object in front a window. That's one tick away from comfort. You can reduce the air velocity by using hoses, but you might have to move furniture to make room. They are also not very small. They won't be long enough for you to hide them behind objects. The hoses will displace blinds and curtains. They get warm!

This unit is perfect for my needs. I needed a portable, quiet, energy efficient way to cool my bedroom. Although I achieved everything, I would have preferred quieter cooling. They get the benefit, but I will leave that star there. Although the price could be higher, these are not permanent discounts.
This self-evaporating portable air conditioner was purchased to replace my Florida RV roof AC. It cooled so well (at 3 amps less), that I ordered another. I was planning to order the exact same unit, but Amazon offered it at a similar price and an additional 1K BTU with the same 9 amp draw. It's true. This unit cools a lot better than the 11K unit with the same power draw. These units keep me warm on my Florida houseboat. I also have 12 amps remaining on my 30amps service. These dual hose units from Whynter are great. On a smaller boat, I tried single hose units, but they didn't cool well and emitted a strong odor. Dual hose is worth every penny in the subtropics. These Whynters are amazing. These things are a joy to me. They will eventually die, but I will be updating this review with information to show how long they can last in a saltwater environment. These are quieter and more efficient than the roof units if you live in an RV. This model reduces fan speed when the compressor stops, making it even more quiet. Did I mention that I love this AC! You can stop reading and click the BUY NOW Button.
We wanted to buy something in advance of the 2019 California heatwave. Our first child is due in mid-summer. This was specifically purchased for our bedroom to complement our portable 14K BTU air conditioner in the living room.

Our 800-square-foot apartment has high ceilings. The Soleus Air LX-140, which we have, does a great job but fails to maintain 75F. The hallway and bedroom are insulated from the cold by very little air. The beast is very loud and can consume up to 13.5 Amps when at its full bore. It is powered by a 15 Amp fuse. It is doable, but it is a bit too close to the line for my taste.

Before I chose the Whynter air conditioner, I did a lot of research. I wanted a unit that was quiet, cost-effective, and had a minimum of $500. The unit cost $419 at the time it was sold. The unit is also rated at 52 dBa which is comparable to many smaller A/C units. It also has an EER-12 rating, which is great for a portable AC. I was sold when I saw that the unit uses only 9 Amps of electricity.

It exceeded all my expectations. I am amazed at how quiet it is. It is wonderful. I have slept on it near our bed several times on warmer nights. It keeps our bedroom cool and has no background noise. It does a wonderful job in our bedroom but it isn't as powerful as our 14K BTU unit. That's fine. It doesn't make a roaring like a Yeti. It is perfect for its intended purpose, which is about 400 square feet. It might not work well on extremely hot or humid days. A hose can be attached to allow for continuous draining. As the temperature rises, I look forward to testing it with our A/C in our living room. This summer, we plan to transform our apartment into an Igloo.
This unit has only been with me for a few days. It is replacing an old Honeywell portable, fully self-evaporating air conditioner that I had returned. It's been excellent so far and well worth the $120 extra. The compressor's noise is a problem. However, the Whynter AC unit is extremely quiet and has been rated as the quietest portable AC unit. The dual hoses and the remote control that displays the mode on the screen are also a plus. Although the threads in the window vent are pre-drilled and tightened, the hoses fit more securely than any other units I have seen. Its 80 pound package weight and the fact that the window slider was too long to fit a 34 inch wide window meant it wasn't fully ready for use. It is quiet, easy to install, has nice hoses, and looks great.
You must first understand my house. It is a 1924 bungalow with inside stairs that were added to the attic, which was then converted into an attic or large room. This room houses the central air conditioning unit. It also services the rest the house. However, unlike most upstairs rooms, they do not cool down even with the vents. This room has been warmter than the downstairs, with temperatures ranging from 10 to 12 degrees. I will be using this room as my office during COVID-19. I checked out several units online and read the reviews. I found that the reviews were very positive on this website and in major air-conditioning publications. It is quiet and easy to set up, and the remote works perfectly. I set the room at 72deg. It pushed out cold air from the moment it was turned on. I am running it 24/7 at 70deg to find out what happens before the return date. The product's quality and manufacturing have been excellent. It was worth every penny.