For homes and offices that are not serviced by central air conditioning systems, there are several alternatives available to keep you cool in summer. They come in several shapes and sizes to suit varying needs and climates.

A popular interior cooling solution is the portable air conditioner with dual hose venting for the best economy and efficiency in a small, free standing unit.

This can provide a good level of welcome relief from the heat of the day during the hot weather while costing less than larger, fixed coolers and being easily moveable from one room to another so you can take your cooling with you wherever you go!

To properly vent a portable air conditioning unit with an external exhaust hose system, there are two main variations to be aware of.

There are units with only one hose and there are other regular or self evaporating portable AC units with two hoses. It is the latter type we are interested in here.
Why Choose a Portable AC?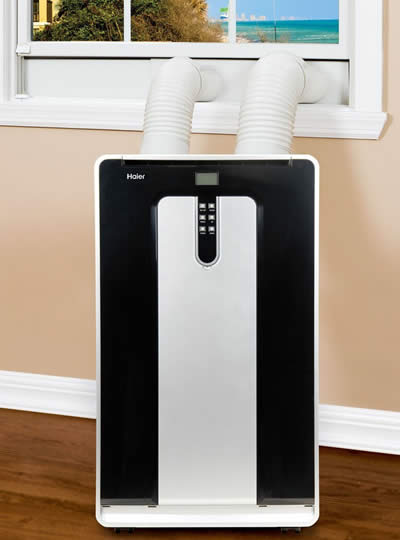 With several fixed cooling solutions available, you might be wondering why so many people choose free standing, portable units rather than the more efficient window AC or mini-split AC alternatives.

For many, the main reasons are purchase cost (portables are generally cheaper to buy), ease of installation and space saving.

The mini-split or ductless AC represents the best operational economy but many would-be purchasers are put off by the high ticket price plus installation cost as it is generally recommended to engage a professional AC engineer to install one.

Rather than take up precious window space as a window AC unit would, a portable unit is free standing and is instead equipped with hoses to exhaust the heated air out through a convenient window. The vent tubes are held in place by an adjustable frame or fixing kit.

Portable coolers need no complicated installation and because they're not fixed in place, they represent a mobile cooling solution as the unit can be simply wheeled from room to room and used as needed. The only fixing the needs to be done is to install the window fixing kit that is supplied with the unit to a convenient window.

Everything needed to install a good quality unit should come in the box. It is necessary to have free access to a window for the unit to work correctly.
What Are the Hoses For?
When the intention is to buy a portable AC unit for your home or office, it's important to understand the purpose of the hoses. Whether you ultimately choose a single or dual hose unit, be aware that every portable AC must draw air in from one vent, process it to produce cold air and then exhaust the by-product hot air from another part of the machine.

The exhaust is pumped outside the building through one hose. Air may be drawn into the unit through another (if dual hose). It also helps to know that all air conditioning systems actually produce a greater volume of heated air than of cool air.

The efficient removal of that heated air from the room is absolutely necessary if the space is to be cooled!
Single Hose versus Dual Hose AC
While we're on the subject, let's look at the differences between the single hose and dual hose cooling units.
Single Hose
The single hose AC pulls warm air into the unit from the room. It then sends it past refrigerant cooled coils to be chilled and the cold air is pushed into the room. The process creates a lot hot moist air which is then sent through the exhaust hose out of the building.

This process creates a negative air pressure situation in the room as air is forced out through the window vent hose. Any cracks or fissures around windows and doors will allow the hot outside air to leech into the room.

If a lot of hot air is pulled into the building and if the area being cooled is large, the machine will need to work much harder to cool the room.

Fortunately, if the area to be cooled is fairly small, a single hose device can provide sufficient cooled air without costing too much. It is important to work out the necessary power output in BTUs for the size of the room to be cooled and purchase a machine with the right power rating.
Dual Hose
The dual hose device differs from the single hose model by adding a second air intake in addition to the unit's own fixed air intake vent. Instead of only taking warm air from the room to be cooled, the dual hose model also takes cooler air from outside via its second hose.

This air is used to help to cool the compressor and other machinery as air is processed inside the unit. This helps to make the air exchange process more efficient and use less energy to convert the room's warm air into chilled air.

As with the single hose unit, the second hose is used to exhaust the hot, moist air out of the building via the window (or, if installed, a through-wall vent hole).

A dual hose portable unit is better suited for cooling larger spaces and does this much more efficiently than a single hose unit. A big advantage is that the dual hose configuration allows the unit to cool the space much faster.

It also eliminates the negative air pressure problem experienced by single hose units. This means there is less chance of hot air from outside getting into the room through gaps in window and door frames, again making the process more efficient as the unit doesn't need to work so hard to cool the room.

A more efficient device uses less electricity to produce cool air, offsetting the initial higher purchase cost with lower on-going running costs. Over a relatively short period of time, the unit's cheaper running costs will have saved money and made it a cheaper solution in the long term than a cheaper-to-buy single hose model.

Note: As a Sylvane affiliate I earn from qualifying purchases.
Which Dual Hose Portable Air Conditioners?
Below are some of what I consider to be truly awesome models currently available to buy online. My preferred online store is Sylvane for its recognized expertise in the field of air cooling and purification, its great customer service, fast delivery and very competitive prices.
Whynter Eco-Friendly 14,000 BTU Dual Hose Portable Air Conditioner
If you haven't already heard about the Whynter brand that produces high quality, top performing, easily affordable air conditioners, here is one of my favorite models from them!

This 14,000 BTU AC has dual hoses couple with fully self evaporation operation for maximum efficiency and eco-friendliness.
Fully Self Evaporating AC
Not only do you get a powerful cooling machine (with optional heating function), but this one cleverly recycles the moisture captured from the air to assist in the cooling process before expelling outside through the exhaust hose so you don't have to mess around emptying a drip tray that most traditional portable AC models require.

The ARC-14s model can easily cool a space up to 500 sq ft while costing you less to achieve the cool comfort you desire when compared to other less well featured models.
Venting Options
You also have options when it comes to venting this cooler.

You can choose to fix the hose kit to a convenient window or there is an option to fix to a sliding door opening if that is more convenient for you.

This gives you more scope to place the unit in a place that you want instead of being restricted to only placing it near a window.
Other Features
There are plenty of great features that make this appliance such a popular choice for customers.

If you like what you're reading here and want to know more about this model, please click the image above right to visit the relevant Sylvane website page where you can get all the details, the various additional options like a heat function, price and free shipping info.


Toyotomi 11,500 BTU Double Duct Self Evaporating Portable Air Conditioner
Here is a slightly lower powered but full featured, fully self evaporating portable air conditioner made by popular Japanese manufacturer Toyotomi, perfect for cooling areas up to 350 sq ft.

This is one of the best models with the ability to recycle (then remove) the water that collects inside. It does that by re-evaporating and sending that moisture out through the exhaust vent hose. This means you don't need to empty the water container when used under normal cooling circumstances.

Perhaps haven't already heard of the Toyotomi brand of quality air conditioning equipment. Well, here is an introduction to this rapidly growing-in-popularity AC manufacturer!

Toyotomi is producing some of the best, most reliable and highly efficient coolers in the marketplace today. Their models often out-perform units from other well-known brands of similar power output.

This 11,500 BTU unit is surprisingly powerful for its size. It is easily able to cool a room up to 350 sq ft efficiently and it does it quietly (min 49 dB, max 54 dB).
Features
It features dual hose operation for higher efficiency and better economy than single hose models.

In addition to regular cooling and multi-speed, fan-only modes, this AC model features a dry mode (dehumidification). In this mode, the unit extracts from the air up to 3.76 pints of moisture per hour. Note: When used in "Dry" mode the water container will need to be emptied regularly.

It comes with a remote control, a self timer and automatic operation functions, making things as easy as they can be!

To view the full details, click on the image (above right) and visit the unit's page at the Sylvane website, where you can also check the low price and free shipping details!


Honeywell MN12CEDBB 12,000 BTU Dual Hose Portable Air Conditioner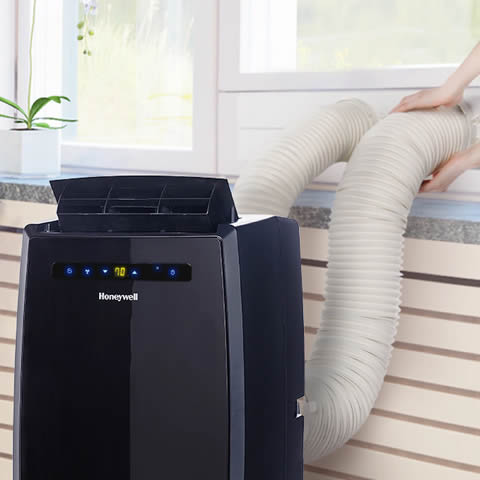 Click to View at Sylvane
Note: Currently out of stock
#ad
The Honeywell MN12CEDBB Portable Air Conditioner with dual hose along with 3-in-1 technology is high spec dual hose air conditioner with fully self evaporating technology, meaning there's no need for emptying a tray or draining.

This model has a powerful 12,000B BTU output plus 229 CFM airflow capacity and is capable of cooling and dehumidifying spaces of up to 450 sq ft.

The MN12CEDBB also features a dehumidifying function plus a 3-speed fan-only function.

This is a versatile, easy-to-use portable AC for cooling, dehumidification and providing a high level of internal atmospheric comfort. There's a choice of two colors, white and black (currently only the black version is in stock).

As with most modern coolers, this one comes with a fully programmable remote control for armchair control-ability and convenience. It's also very quiet for models in its class, operating at around 55dB on the low power setting.
Conclusion
I'm currently only showing two dual hose equipped AC models, but there are others that I will add to this page when I've fully reviewed them.

There are a number of free standing AC models with two exhaust vent hoses that are feature self-evaporating technology, which is an option well worth considering when abuying a new portable cooling appliance.

If one of the above models fits your needs by ticking all the boxes on your list, simply click on its image to open the full description page at sylvane.com for all the details of the model.


Last Updated: February 20, 2022