As the colder winter days and nights draw near, a vent free propane fuelled heater makes a great heating backup solution for homeowners living in areas that have cold winter temperatures.

That's because you never know if the power will go out and leave you with no way to keep warm when you rely entirely on the power companies to supply the energy you need to run your home's heating system.

For an older person or those with disabilities that restrict their mobility in some way, the occurrence of a power outage can be devastating, especially during the colder period of the year.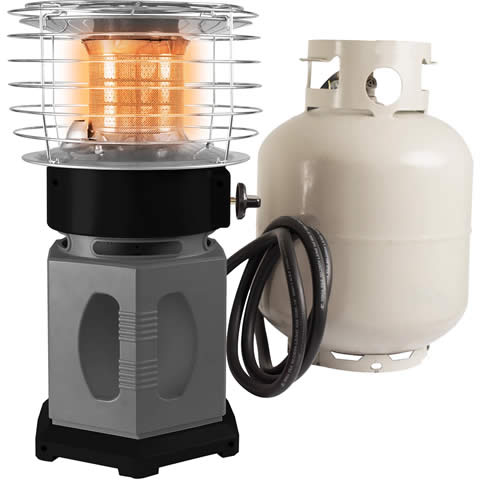 There is nothing worse than having to try and stay warm when there is no heat source in your home and you are restricted in your movements.

It is not a situation that many people relish in any way at all. Yet it is one that can be completely avoidable when you have the right equipment to hand.
The Problems of Coldness
Low temperatures can make it difficult to get about as muscles ache and joints give more pain than usual. If you are housebound and do not get many visitors, being without power for running your main heating system for any length of time can not only be dangerous, it can be fatal especially in the elderly.

Worse, in very low temperatures water pipes can freeze and burst in unheated homes. Likewise the increase in dampness can result in molds growing which can cause breathing difficulties and respiratory infections.

The problems can escalate especially if you don't have any way to heat water for hot drinks or power for cooking etc.
Be Prepared and be Safe
This is where being prepared for this kind of instance can really pay off in a big way. By having one or more backup heaters that do not rely on mains power, such as portable propane fired heaters or a propane or wood fuelled stove, you can at least enjoy localized warmth for comfort as well as heat water and cook food.

There is the type of vent free propane heater that is vent free and comes with thermostat or without that can be sited in a fireplace, wall mounted or standalone for full portability although you should always check the safety features on any large or small unvented propane powered heaters to insure they are safe to use indoors without flue or other exhaust device.
Beat the Blackouts and Brownouts
Owning an unvented portable indoor propane heating unit as a backup device can be a real benefit in times of power outages because you can quickly bring them into service, fire them up and enjoy instant warmth.

The only thing you need to keep on top of is ensuring you have sufficient spare gas cylinders stored in your garage or storehouse to see you through several days of blackouts or brownouts.

There is nothing like being able to keep yourself warm when it gets really cold outside and when there is no mains power that can suddenly become a scary prospect if you have not prepared. Of course you can take a chance and hope there won't be any problems, but these last few years have seen higher instances of power outages in major cities and towns in cold weather that did not expect them.
How do Propane Fuelled Vent Free Portable Heaters Work?
Using a propane or liquid gas fuelled portable or fixed heating device is generally fairly simple.

Most modern units come with piezo-electronic ignition so it's as simple as turning the gas supply on and pressing the switch. That generates a series of sparks that ignite the fuel and the fire burns almost right away, producing plenty of heat from the word go.

All you really need to remember is to insure the gas cylinder is correctly fitted and the gas seal is tight, which will happen when it is screwed on correctly or if it is a bayonet style fitting then it's even easier. Also make sure there are no clothes or other flammable material hanging over or near the unit as you won't want things to catch fire!

Just remember common sense prevails and as long as you are careful, you'll be safe. With an indoor ventless propane gas heater ready for emergencies you can be sure to enjoy security and warmth next time the power goes out despite any physical limitations you may have and that is the best kind of peace of mind anyone can have.

You can find out more about the safety aspect of propane fired heating units here: www.energy.gov