When looking for high end, effective air purification solutions for the home or business, Oransi HEPA air purifiers might be the perfect match for your needs.

I value the cleanliness and purity of the air I breathe inside my own home and my office space where I work.

After setting up Oransi models in these spaces and using them for some time, I can certainly recommend them to others.

This article highlights the brand and some of the models that you too can buy from Sylvane online if you want the best level of air purity in your home or work space.
HEPA Level Air Filtration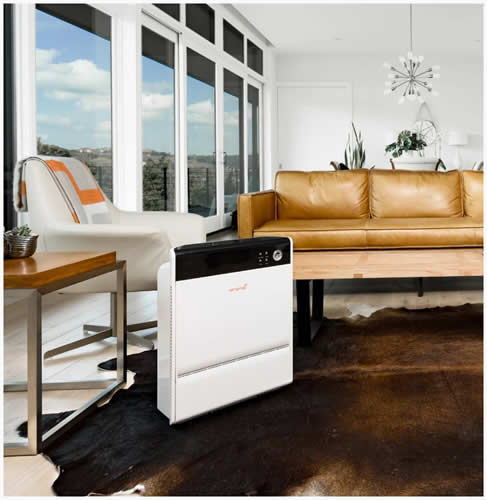 These purifiers have been designed with allergy-sufferers in mind as well as being environmentally friendly.

Oransi HEPA-level air filtration removes over 98% of allergens including dust, mold, pollen, pet dander and many other fine airborne particles.

Oransi purifiers all have unique v-lock and v-seal technology. This creates a seal around the HEPA filter, locking the filter's cover into place, creating a completely sealed air filtration system with zero leakage.

To remove unpleasant odors, chemicals and gases from the air, all models feature gas phase filters. To combat bacteria and germs, ultraviolet germicidal lamps are also fitted.
Convenient Control
All units include multiple purification speeds, programmable timers, digital controls for convenient control and operation.

Air quality monitors included on certain models continuously sense any airborne impurities.

These air purifiers do a great job of cleaning and purifying my indoor air while also playing their part in helping to reduce the carbon footprint. To achieve that, their internal fans are very efficient, using around 41% less energy than comparable air purifiers.

All models in the range qualify for the Energy Star program and meet lead-free (RoHS) standards.

What you get when you own an Oransi air purifier is a compact, lightweight unit that looks great in any setting while operating at a whisper-quiet level.
My Recommendation
Below is one of the units I use in my own living and work space with links to Sylvane where I purchased it from online.

Note: As a Sylvane affiliate I earn from qualifying purchases.
Oransi OVHM80 V-HEPA Max Air Purifier
This model sits on the floor in my office and cleans the air I breathe while I work at my desk on my computer.
It's powerful enough to cover up to 600 sq ft, although my office is not that big I chose it because I may upgrade my office space in the near future. There's nothing like factoring in future growth when it comes to sizing appliances in my world!

I quite often forget the unit is even there, it's so quiet and nonintrusive.

So what has it got that makes it a first choice?
Four-Stage Air Filtration
This unit provides a very high level of air purification. Four stages of filtration deliver extremely clean air to your environment. These stages include:
A Washable Pre-Filter

Air coming into the unit goes through the pre-filter first, where all the larger airborne particles are removed.

High Efficiency HEPA Filter

Next the air passes through the HEPA filter which removes allergens, pollutants and tiny particulates (down to 0.3 microns) that escaped the pre-filter.

Activated Carbon Filter

Thirdly, air then passes through the activated carbon filter where gaseous particles are trapped, such as tobacco smoke, cooking odors, gas and chemical fumes.

Ozone-Safe Ionizer

Lastly, the air released into the environment is clean and ionized (high density negative ions) where other airborne impurities are removed.
The unit is also equipped with an air quality monitor and dust sensor onboard. This constantly monitors and reports on the quality of the air in the room. In automatic purification mode, the sensor adjusts the fan speed to best deal with the level of pollutants in the air.

As you can see from the image, this model is very slimline in profile. That means it will fit unobtrusively into almost any room and work away quietly as keeping the atmosphere clean and allergen-free.

You can click the image above right to visit the Sylvane website page where this model is featured for more information on purchase price and availability.
Other Models
There are several other models in the range of HEPA filter air purifiers from Oransi. These range in size from the smallest (Model OVHT9908) that can clean the air in a room up to 400 sq ft, right up to the industrial size (Model ERIK650A) unit that can clean up to 1,700 sq ft and is at home in large buildings, commercial premises, healthcare facilities etc.

You can find the full range of purifiers on the Oransi HEPA Air Purifiers page at the Sylvane website by clicking the link below:



Click to View All Oransi HEPA Air Purifiers at Sylvane

#ad
Conclusion
If you suffer from any kind of allergy or respiratory condition that is degraded by air pollution and airborne particles, it can bring a great deal of relief to have a good quality air purifier to hand.

A highly rated air purifier such as any one of those in the Oransi range will deal with almost all irritants in the air inside your home or work place, leaving you to breathe clean air that does not irritate your delicate respiratory system.

In may ways, air purification goes hand in hand with air conditioning to vastly improve the quality of the air as well as maintaining a comfortable climate for you and your family to enjoy.