What is an awesome smart portable air conditioner, wifi ready and easily controlled by an app on your phone that you can buy right now in stores and online? What?

If you live in an older building or an apartment without central air conditioning, chances are you're already using a window AC in each room or if you can afford it, a mini-split AC.

If you can't afford either of these or you don't have anything more than a fan to blow warm air at you, you're probably considering getting a portable air conditioner that you can move from room to room as you do.

Conventional portable coolers come in all sizes and power ratings and most have a remote control so you can operate them without getting out of your armchair.
Technologically Advanced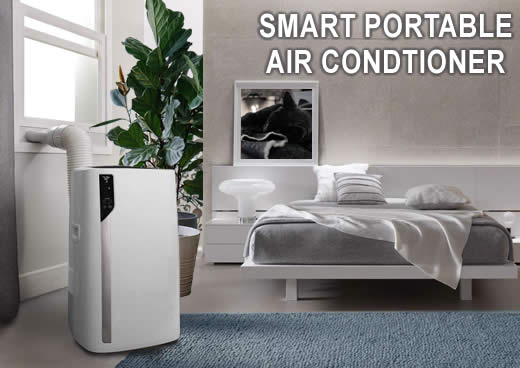 However, there is a more technologically advanced version of this type of cooler that you don't even need a remote for... That's if you have WiFi in your place, like almost everybody does these days.

If you have absolutely no idea what I'm talking about right now, don't worry. I'll explain it all as we go on as you're likely going to be very curious to know all about this new breed of cooling device.

Let's start the ball rolling by letting you in on the not-so-well-kept secret in the HVAC world. I'll answer some common questions as I explain what these devices are, how they work and why you're totally going to want one (or more) in your home!
What is a Smart Air Conditioner?
If you're following the commercials on TV like most of us do, you're probably already perfectly aware of smart devices that can be controlled by an app on your phone of tablet. Things like smart TVs, cookers, microwaves, fridges, washing machines, dishwashers etc can all be programmed via an app to run when you want them to and how you want them to.

So it may come as no great surprise to learn that you can also have smart air conditioning systems that you can similarly program via a phone app. Well, it's not just big central AC systems that can be controlled this way.

You can also get smaller, individual AC units that are WiFi connectible and controllable via an app!

Right down to certain portable air conditioning units that can be set up to run at certain times, you can turn them off at other times, change the fan speed or the thermostat setting as you wish. This puts total control and full monitoring capability in your hands and you don't even need to be at home to do it!
How Do Smart Air Conditioners Work?
These devices work in a similar way to most other ″smart″ devices. They have an on-board computing chip connected to a WiFi port that simply hooks up to your home WiFi, connecting your AC to the Internet on one end while your phone or tablet is connected at the other end.

A dedicated app created by the device manufacturer contains all the controls and monitoring functions and you simply download it to your phone or tablet. Once the app is installed, you can go through its functions and set your AC unit to do whatever you want it to.

Except it can't cook you a meal... you need a smart cooker for that!
Which Smart Portable Air Conditioner Do I Recommend?
Now that you know what it is and how it works, my guess is you probably want one.

Go on, you know you do!

The only thing left to do now is figure out which product is the right one for your needs and which manufacturer makes a truly awesome smart AC!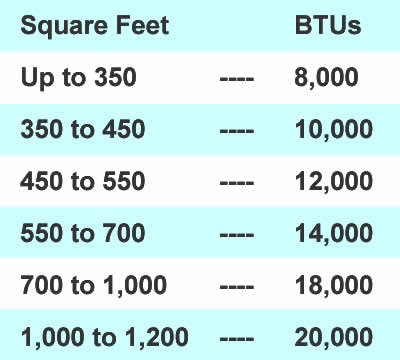 I can tell you that there are a few very well known manufacturers of portable AC units that produce high quality, reliable and efficient models. It is the more popular of these that I feel compelled to recommend here.

The first thing you should decide is how much cooling power you need. That is generally dictated by the size of the largest room you want the cooler to cool, measured in square feet (assuming a standard height ceiling).

The power output is measured in BTUs (British Thermal Units) and the lower numbers relate to lower power output, while large numbers relate to higher output. Check out the handy BTU chart on the right to get a general idea of how much power you will need to cool your room.

You'll see from the chart that a 14,000 BTU device will comfortably cool a room up to 700 sq ft, but as this is generally the highest output portable generally available on sale, for larger spaces you may need two units to manage the temperature levels effectively.

(Information for chart taken from Energy Star)

Also be aware that because this is fairly new technology, smart AC units are going to be more expensive to buy than conventional (non-WiFi enabled) units. But don't let that put you off, as the extra cost is, in most cases, not much more than its non-smart equivalent.
A Great WiFi Portable Air Conditioner?
My Top Recommendations: Smart Portable Air Conditioner Reviews
Below is a sample of my top recommended WiFi ready portable AC models.

Note: Just a timely reminder that when you choose to buy any air conditioner unit: Once installed, you must leave it to sit for two hours before turning it on. This is to allow the refrigerant gas to settle and any bubbles to dissipate. Failure to do this may result in poor performance!

PS: I hear a number of perfectly working devices were returned, because new owners ignored this advice and turned them on right away, then wondered why they didn't work properly. Good advice is worth heeding!

Note: As a Syvane affiliate I earn from qualifying purchases.

Another note: I'm hearing a lot of very good reports of the excellent service provided by the electrical appliance store Sylvane for air conditioning and cooling equipment models. For this reason, I am recommending this popular online store for U.S. customers in preference to other alternatives like Wal-Mart or Amazon.

The prices are comparable and delivery is also free on the US mainland, but the great service is worth its weight in gold!
De'Longhi 4-in-1 Smart WiFi Portable Air Conditioner with Heat
One of my favorite Wi-Fi ready portable air conditioners for not only providing cold air in summer but also warm air in winter is this 4-in-1 unit from popular manufacturer De'Longhi.
Providing you with a compact, 12500 BTU unit that can cool (or warm) a room up to 500 sq ft, this multi-function AC unit does it all!

Its smart function makes it easy to connect to your WiFi and be controlled either via a phone app or with Alexa or Google Home devices for incredible flexibility.

You can easily set it up to turn on and off when you want, set the temperature and power setting to provide you with just the right climate when you're at home and save energy by turning off when you're not there.

This 4-in-1 model features Cooling; Heating; Dehumidifying and Fan-only modes for all-year round comfort. It also employs exclusive ECO Real Feel technology that is designed to provide an unmatched level of comfort, with an ideal balance between temperature and humidity.

This amazing device also incorporates its own BioSilver filter for cleaner air while helping to prevent mold and mildew accumulating on the filter to reduce odors.

If all that isn't enough, it also incorporates no-drip technology that automatically recycles condensation inside the unit to improve efficiency and help prevent leaks. That makes it a fully self-evaporating air conditioner that does not need to be drained like a conventional portable AC.

You can buy this unit online right now at Sylvane, where customers are very happy with the great shopping experience and the professional after-sales service that puts the customer first. Click the image above right to view the product page and get further details including a very attractive price along with free delivery!



NOTE: If you want to buy a smart portable AC online but live outside of the United States, or you'd just like to see what's available from Amazon: Click HERE to open THIS PAGE
Friedrich ZoneAire 11,000 BTU Smart Portable Air Conditioner
If you're looking for a smart, WiFi ready portable air conditioner with tons of great features, the smart, Friedrich ZoneAire has dual hoses and is fully self evaporating as well as being fully controllable via phone app or voice control via Alexa or Google Home.


This clever cooler is able to recycle and then remove the condensate that collects inside itself, sending it outside through its exhaust vent. That means you don't need to periodically empty a water tray under normal cooling circumstances. Oh, and this model can be fully controlled using an app on your phone!

This model from Friedrich has the "smart" Wi-Fi enabled feature enabling you to download an app and then control it's functions from your phone or tablet. Of course that also means being able to voice control with a smart device like Google Home or Alexa.

Are you sitting across the room, out in your back yard or maybe you're waiting for the train on your way home from work? Wherever you are, you can set this AC to do whatever you want it to do from wherever you happen to be!

It's a powerful cooler too, with 11,000 BTU of cooling power that can easily cool a room as big as 400 sq ft quickly and quietly (max 53 Db). The dual hose operation makes it more efficient and economical to operate than a single hose model.

What other great features does this unit have?
Features
This cooler has a dehumidification mode that can extract up to 3.5 pints of moisture from the air per hour.

It has a digital LED display and a remote control for when you're indoors and not using your phone. There is also a 3 speed fan and an auto on/off function with a 24 hour timer

Click on the image (above right) to get the full details of this cooler at the Sylvane website where you can buy it direct and get free shipping to all mainland USA addresses!
Emerson Quiet Kool 14,000 BTU Smart Portable Air Conditioner with Heat
If you need a smart AC with more cooling power in summer as well as heat for when it gets cold, I found this portable model that has all the specs you want with a price tag that is affordable and a great value point.
The Emerson Quiet Kool 14,000 BTU smart WiFi enabled portable air conditioner is packed with great features along with multiple modes to make your space a comfortable one, no matter what the weather may be throwing at you from outside.

I chose this model in particular because it can be bought from Sylvane in a number of different variations to suit your needs. You can have it in its most basic format as just a traditional cooler/heater if you are not concerned about it being "smart" or not.

Or it is also available as a Wi-Fi enabled and voice-controllable upgrade at the click of a button on the product page. You'll see it when you open the page by clicking its image to the right - just beneath the price, it says "Choose Your Option:" and you'll see two boxes.

Click either the box labeled "Electronic Controls" (the standard model) or the box labeled "WiFi Controls" (smart model).
Hint: Click the "WiFi Controls" box, because, since you're reading this review, I have to guess you really want a smart AC and not an ordinary one!

The unit is nice and compact, looks really great with its smooth lines and cool white finish. What's more, this model is really easy to install and is perfect for rooms up to 550 sq ft.
WiFi Enabled AC
Remember, thanks to its WiFi connectability, this model can also communicate with other smart devices like an Alexa or Google Home device. That means you can literally tell Alexa what you want the cooler to do and it will do it (if it can)!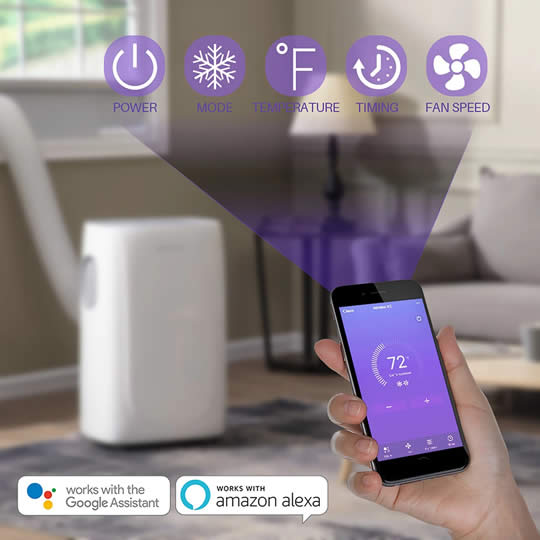 There is a dedicated Emerson app you can download to your phone from iTunes or Google Play depending on the make of your phone that you can use to programm and control the AC unit remotely from wherever you are.

Programming is possible to turn the unit on or off on demand or set the timer to turn it on/off at the times you want it to. You can set the power output setting (low, medium or high), set the fan speed and adjust the louvres to direct the airflow to where you want it or spread it around the room.

It has a dehumidifier mode that can remove up to 5.3 pints of moisture from the air per hour. This is a "must" if you live in a humid climate and great for drying the air to make it feel cooler and not sticky any more.
Fully Self Evaporating AC
If you don't like the chore of emptying a drip tray that you get on older AC models, this will make you smile: There is no need to empty a drip tray because this model is fully self-evaporating.

That means it re-evaporates any moisture that condenseson the cooling coils and uses it to help with the cooling process before exhausting it out through the hose!
Heat Mode
And if all that isn't enough, this model can blast out hot air in its "Heat Mode" to keep you warm in winter!

I recommend you take a look at the product page on the Sylvane website for yourself to see the full spec, all the product images and a short video. It's really easy to order from this popular store and they deliver fast and provide some of th ebest after-sale service I have ever come across.

Click the image above to visit Sylvane and see this amazing smart air conditioner (and it's surprisingly agreeable price) for yourself!



NOTE: If you live outside of the U.S. or would like to view alternative AC models available via Amazon: Click: Open THIS PAGE
Additional Information
Having reviewed my personal favorite models of the moment, I have addded more information to this article (see below), just in case you want to read more about these intelligent portable air conditioners.
WiFi Air Conditioner Control
The technological marvel that is WiFi enables all your smart devices to connect to the Internet wirelessly in a home network that you set up using your home computer or tablet/phone.

The same network that connects your laptop to your tablet to your TV to your dishwasher also connects to your new air conditioner!

Not only that, but if you have a smart speaker like Alexa or Google Assistant, you can set them to control your AC for things like setting the AC to turn on when your lights turn on as you are arriving home from work, for example.
How to Control an Air Conditioner with a Phone
Each air conditioning equipment manufacturer has its own dedicated app for the various types of phone or tablet that can be used to control its cooling devices remotely. These will be available for iPhone, Android and other mobile device operating system, providing owners with access to the right app for their phone or tablet.

There will be instructions on how to download the app, install it and then use it for each manufacturer's equipment in the literature when you purchase a smart air conditioner. The unit will generally have an automated WiFi connection that activates as soon as the device is turned on.

Once the app is installed on your phone, you simply follow the instructions provided to personalize the settings to suit your needs.

Don't worry if you don't think you're technically minded enough to figure out how to use it, because you can be sure the manufacturer will have made it as simple as they can for people to use.

After all, they rely on their customers enjoying the experience of owning and using their products, so it's in their interest to make sure their app is hassle-free and easy to use!
What Does a Smart AC Do?
A smart AC can do everything a regular AC does, such as keeping you nice and cool when the weather turns hot.

The difference between conventional and smart air conditioners is that a smart AC will allow you to maintain a comfortable home temperature using a smartphone. The AC functionality is easily controlled via an app that can be downloaded on a phone or tablet.

Another feature is that a smart AC can be connected to and controlled from a smart home system or a voice assistants like an Alexa or Google Home.
Do Smart Portable AC Units Need to be Vented?
Like all conventional air conditioners, smart units must be vented using the flexible exhaust hose that comes with the unit to connect to the window fixing kit. The special kit is also supplied with the AC unit.

These units may be smart, but they still need to get rid of the hot, moist air that is produced by the refrigeration process and that is done via the exhaust hose. Please make sure the hose is connected to the back of the unit as well as to the window fixing plate, so hot air goes out the window and not back into the room!

While some of these units are self-evaporating (reducing or eliminating the need to drain excess water from a tray), please don't confuse them with the kind of ventless portable air conditioner that I explain about in that linked article. They are two very different products as you will see.

Last Updated: February 20, 2022